C9500 WHOLE Slow Juicer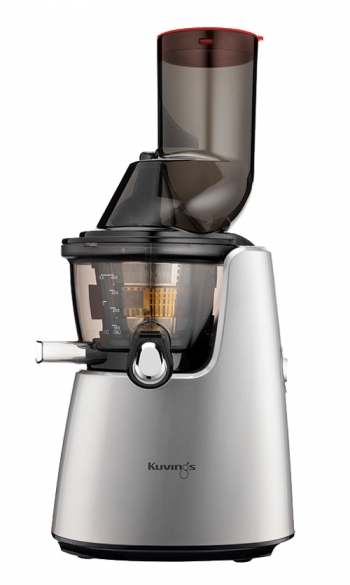 The Kuvings C9500 is the latest MUST HAVE from world renowned NUC Electronics. This newly designed model still maximises nutrients and vitamins in the juice like its predecessors, but it does that while making the cleaning process much easier, and produce juice that has less pulp in the liquid thanks to a newly designed drum base, ogre, and juicing strainer. The smart cap is more solid.
Kuving's is always at the forefront of innovation and we now offer the new C9500 model. This is the first vertical juice extractor that allows for all types of juices with no unpleasant fiber taste. The yield (amount of juice compared to the amount of fruit inserted) has been further improved compared to the B6000. The resulting juice is rich in nutrients with perfect texture for increased pleasure.
Design and technology
A sleek and stylish design hides a veritable technological revolution that allows for juice 0% fiber which is very valuable for carrot juice, beets, celery, ginger …
Juice strainer (exclusive C9500)
The C9500 filter has been improved with a solid background that does not let any fiber in the juice. The Kuving's filters are stainless steel + Ultem (without plastic resin extremely resistant BPA).
Pressing screw (exclusive C9500)
The pressing screw is slightly hollow underneath. Excedente the pulp will be stored under the screw which allows the C9500 never hang because of the fibers.
Extraction bowl silicone strap (exclusive C9500)
Kuving's designed for the first time an extraction bowl without silicone tongue which allows for better performance and makes this piece even easier to clean !!
The spout has a sleek chrome cap to better control the output of juice.
Color: silver/white/red
Speed: 60 RPM
Power: 240 W
Voltage: 220V-240V / 50/60Hz
Weight: 6,4 kg
Size: 228 x 208 x 448 mm
Cleaning time: 2-3 min
Use: commercial, household
Type: low speed compression
Warranty for household use:
10 years on the motor, 2 years on the parts
Warranty for commercial use:
1 year on the motor, 1 year on the parts
Low-speed masticating technology (60rpm) squeezes every drop of juice from a diverse set of ingredients and maximizes nutritional value while providing natural flavors with a light amount of pulp and fiber.
240-watt brushless AC motor efficiently transfers power to the ULTEM juicing screw (auger) to generate a large amount of force at low speed.
Low speed juicing prevents heat buildup and oxidation that degrade nutrients and natural enzymes.
Detachable smart cap allows for easy rinsing and cleanups.
BPA free components ensures juice will never be contaminated with unwanted chemicals.
Included cleaning tool and brush makes cleanup a breeze.
Made in Korea.
Photo Gallery - click on image to enlarge
Video Gallery - click on video to enlarge