B6000 WHOLE Slow Juicer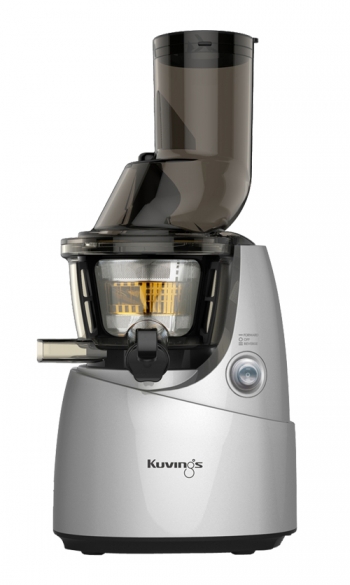 Found on the world's first wide mouth slow juicer, Kuvings' patented, large 75mm feeding tube can easily accommodate whole produce items, reducing prep and processing time up to 40%.
This breakthrough juicer can produce a glass of fresh juice in seconds and eliminates the drawbacks of high-speed and slow juicers that harm and destroy important enzymes. The result is juice that's richer and more full-bodied, with a higher nutritional value and wonderful aroma than other slow juicers. Use the included blank strainer to make sorbets, or make smoothies with the strainer attachment.
The juicer is equipped with a drip-free Smart Cap great for making mixed juices and quick, easy rinsing between recipes. The BPA-free components help keep the juice free of unwanted chemicals and the patented cleaning tool makes cleanup a breeze. All in a beautiful, compact design that complements your kitchen and fits under most kitchen cabinets.
Color: white/silver/burgundy
Speed: 60 RPM
Power: 240 W
Voltage: 220V-240V / 50/60Hz
Weight: 6,4 kg
Size: 228 x 208 x 448 mm
Cleaning time: 2-3 min
Use: commercial, household
Type: low speed compression
Warranty for household use:
10 years on the motor, 2 years on the parts
Warranty for commercial use:
1 year on the motor, 1 year on the parts
Low-speed masticating technology (60rpm) squeezes every drop of juice from a diverse set of ingredients and maximizes nutritional value while providing natural flavors with a light amount of pulp and fiber.
240-watt brushless AC motor efficiently transfers power to the ULTEM juicing screw (auger) to generate a large amount of force at low speed.
Low speed juicing prevents heat buildup and oxidation that degrade nutrients and natural enzymes.
Detachable smart cap allows for easy rinsing and cleanups.
BPA free components ensures juice will never be contaminated with unwanted chemicals.
Included cleaning tool and brush makes cleanup a breeze.
Made in Korea.

Photo Gallery - click on image to enlarge