CS600 WHOLE Slow Juicer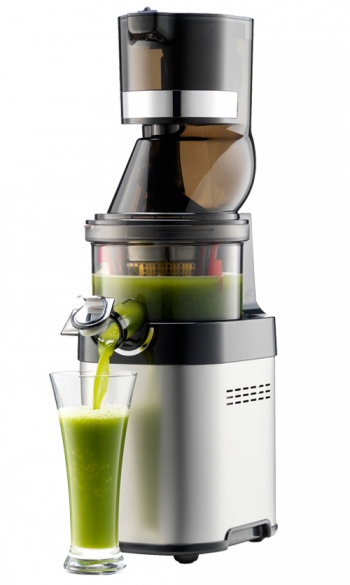 The Kuvings CS600 Chef brings the benefits of slow, cold press juicing to the world of the professional chef or caterer. For years we've been asked by juice bars and other juice outlets for a genuine commercial grade masticating juicer because they've wanted to serve the best possible quality of juice to their customers. Now here it is! If you are a premium home juicing fan who wants the best that money can buy, perhaps this durable, high-yield professional slow juicer is an option for you too...
Enjoy the whole taste and all of the nutrition.
It is patented for low-speed extraction which makes this press juicer slowly press and squeeze ingredients rather than grind. Kuvings Whole Slow Juicer Chef provides you more juice with improved screws, a linear drum and fine sieve, while with increased pulp amount and reduced staying amount in the air.
If you want to serve raw, nutrient-dense fresh juice to your customers, Kuvings has the answer with the CS600 Slow Juicer Chef. Finally, there's a professional grade masticating juicer that can cope with the demands of commercial production to order in juice bars, cafes, restaurants and any place where fresh juice is served. With a claimed production rate of 40 litres per hour with apple juice, there's also a second full set of top parts with the Kuvings Slow Juicer Chef, allowing quick change over for cleaning or for quick swaps between different recipes.
The Kuvings CS600 stands apart from ordinary low speed masticating juicers with sturdier parts and construction, driven by a genuine commercial grade induction motor that turns the juicing screw at a nutrient friendly 60rpm. It also has a higher juice yield than almost every slow juicer we've tested, for better return on your investment in ingredients. There's definitely a place for this commercial masticating juicer to meet the demands of an increasingly health conscious population and if you're familiar with the high noise levels of most commercial juicers, the Kuvings Slow Juicer Chef will help create a haven of peace in your juice outlet with its quiet induction motor.
With a production rate that will cope in all but the very busiest settings, The Kuvings CS600 also offers painless cleanup, facilitated by the ability to close the smart cap and pre-rinse the juicing parts using the action of the wiper blades. With most of the cleaning work done before you even dismantle the parts, its then just a quick twist with the ingenious cleaning brush around the juice filter and you're back in action. For extremely busy juice bars where you need to serve a continuous line of customers, the fact that the Kuvings uses a slow, cold press juicing method means that you can if necessary stage the production of key base ingredients, as the juice remains stable for longer than that from normal commercial juicers. Alternatively, if you are serving a lot of customers with a varied menu the second set of juicing parts offers the flexibility to make sure nobody is waiting too long for their delicious cold-pressed juice.
88mm Flap Gate(Feeding basket)
Faster and easier juice extractingThe 88mm flip gate can take in entire ingredients, decreasing extracting time, saving the natural tastes of ingredients and minimizing nutrition loss. The flip gate ensures safe usage.
24hours Maximum use
Industrial grade motor, enables longer use (When using for commercial purposes, regularly clean out pulp left in the container. It can then continuously work up to 24hours.)
Noise-reduction design
Now with a low-speed rotating deceleration motor gets stronger, lower noise and vibrations from the motor, which makes a well-situated use.
Wide Feeding Chute for Easy and Fresh Juicing
The Wide Mouth Juicer, takes in whole, uncut ingredients and leaves no juice behind to provide maximum nutrition for your body.
Easy clean system
Smart juice cap, External rotating easy brush
Easy Assembly
The red dot indications allow the users to easily assemble and disassemble the juicer.
Smart Cap
Comfortable Smart cap, Sophisticated smart cap, enables easier juicing, Our convenient and practical smart cap enables you to wash with ease to prevent spilling and to make mixed juice.
Kuvings slow juicer's patented technology
Kuvings slow juicer was developed with a unique patented technology called J.M.C.S(Juicer Module Comprising System) to extract nutrients for a nutritional juice.
Minimized separation by juice homogenization.
World's Strongest Brushless Motor
Powerful 200W Motor
Manufactured in-house to provide power and minimize friction and noise.
The powerful, low-speed motor is able to process very fibrous fruits and vegetables.
The unit stays cool, quiet, and stable thanks to the slow processing speed.
Crafted for Safety
A dual safety system with a 3-way ventilation channel made with high quality and durable materials to provide the tastiest juice with most nutrition. And Safety-lock system is equipped with a safety design which allows it to work only if the main and body and drum are connection precisely.
Color: inox
Speed: 50 RPM
Power: 200 W
Voltage: 220V-240V / 50/60Hz
Weight: 9,1kg
Size: 260 * 183 * 515 mm
Max. usage time: 24h
Use: commercial
Type: low speed compression
Warranty for commercial use:
3 years on the motor
Low-speed masticating technology (50rpm) squeezes every drop of juice from a diverse set of ingredients and maximizes nutritional value while providing natural flavors with a light amount of pulp and fiber.
200-watt brushless AC motor efficiently transfers power to the ULTEM juicing screw (auger) to generate a large amount of force at low speed.
Low speed juicing prevents heat buildup and oxidation that degrade nutrients and natural enzymes.
Detachable smart cap allows for easy rinsing and cleanups.
BPA free components ensures juice will never be contaminated with unwanted chemicals.
Included cleaning tool and brush makes cleanup a breeze.
Made in Korea.
Photo Gallery - click on image to enlarge